Hairdressing Training Newsletter – Issue 9: August 2016
Dear colleagues, welcome back!
It's that time of the year again when hairdressing and barbering practitioners around the country start planning for the new academic year. Many of you are regular users of our Hairdressing Training (HT) service and already use our resources to enhance your courses, whilst others are new to this service. If you want to include tried and tested HT resources within your courses or you simply seek to 'refresh' your existing content offering to help motivate and engage your students, then this update should be of particular interest to you.
The new and improved Hairdressing Training service was re-launched in June 2016 with an additional 80 new resources, all mapped to the curriculum and the latest National Occupational Standards (NOS). This service continues to be free for all UK FE and skills providers and includes videos, guides and learning and assessment activities.
Resource in focus
Over the next few months the team will highlight particular resources, starting with one of our new videos.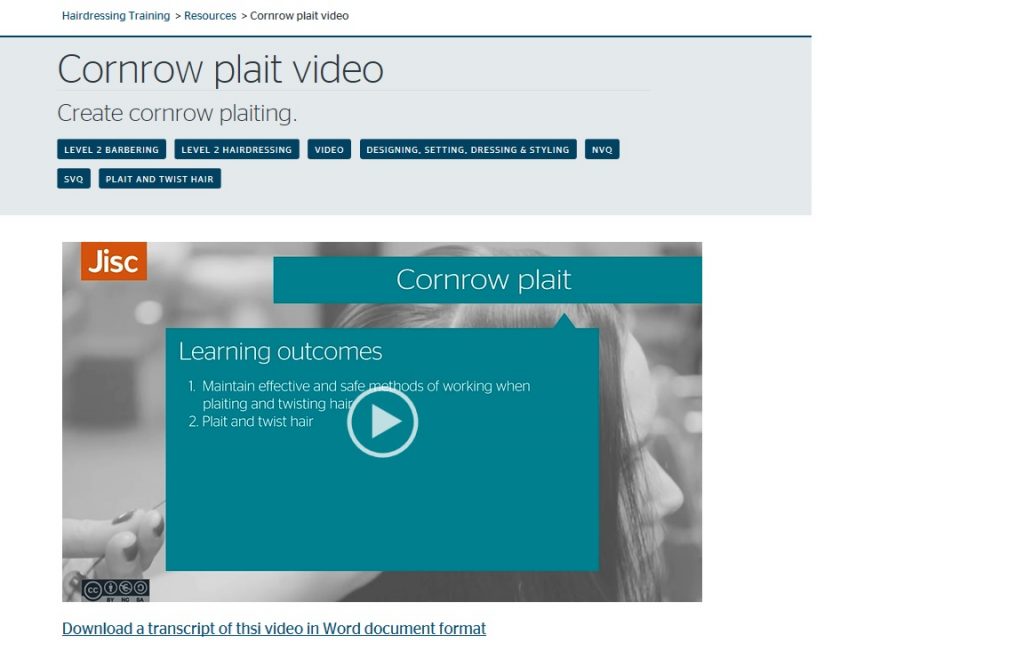 The cornrow plait video is one of four videos that focuses on styling hair using a plaiting technique. The videos are designed so they can be downloaded, reused and mixed with other resources, depending on the learning context and the needs and interest of your students. You and your students can also access this resource on the go using a smartphone or tablet.
Share your story…
We always love to hear from our existing community of users and any practitioners who are new to this service. Whatever your starting point, if you spot a good resource from our collection and plan to embed it into your course or have already done so; please get in touch, tell us your story and we'll do the rest!
Tell us what you think
The team are proud of the re-launched service. We would love to have your input on the new resources and the site as a whole, please email Hairdressing@jisc.ac.uk with any feedback, comments or questions.
Best wishes,
Joy Hooper and the rest of Hairdressing Training team.