Hairdressing Training Newsletter – Issue 13: April 2017
Dear colleagues,
Welcome to April's newsletter.
Digifest
In March we were at Digifest at the Birmingham ICC.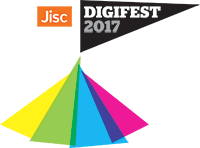 This was a two day event, starting on 14th March, celebrating 'the power of digital, its potential to transform and its capacity to revolutionise learning and teaching.'
We spoke on the second day of the event and our slot included guest speaker Jackie Sharp from Bradford College. Jackie talked about how the staff and students in the Hairdressing department use the resources in teaching and learning.
Bradford College were involved in the creation of the resources on the Hairdressing Training website so Jackie had lots of technical inside knowledge to share and this generated several discussions on how best to use the resources after the talk. If you want to get involved in this sort of discussion then get in touch with us at Hairdressing@Jisc.ac.uk .
Don't forget you can also engage with us anytime by using our social media channels (Twitter, Facebook, Instagram) or email us through the website.
You can see the slides from the Hairdressing Training talk at Digifest here.
Here is a picture of Jackie Sharp at the Hairdressing Training talk with our Service Manager Pete Collins.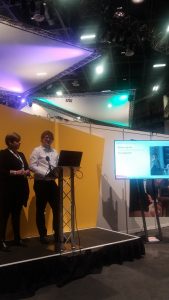 Practitioners Group meeting
On Tuesday 11th April, we are holding a Practitioners Group Meeting at our Manchester office. This is an opportunity for attendees to discuss all aspects of the Hairdressing Training website including what works for them and what doesn't and what they would like to see in the future. Also on the agenda is service enhancement and ideas for effective marketing of Hairdressing Training. We'll let you know how it goes!
If you would like to be involved in a Practitioners Group meeting in the future, just email Hairdressing@Jisc.ac.uk or get in touch using our social media channels.
Share your story…
We always love to hear from our community of users so if you have found an especially good resource from our collection or have any key tips on using the Hairdressing Training website, please get in touch.
Tell us what you think
To ensure the website continues to grow, we want you to be involved and your input is essential. Please email Hairdressing@jisc.ac.ukwith any feedback, comments or questions.
Remember to check out our social media accounts for regular updates on the Hairdressing Training website as well as industry commentary and links. This is another way you can connect with us and let us know your thoughts.
All best wishes,
The Hairdressing Training team