Hairdressing Training Newsletter – Issue 11: February 2017
Dear colleagues,
Welcome to February's newsletter.
In this newsletter, we would like to tell you about some of the improvements that have recently been made to the Hairdressing Training website. These updates have been made in response to community feedback and in order to make the website as easy to use as possible. The team continues to welcome any further views and please do also get in touch with any suggestions on how communication and our user engagement channel can be improved.
Improvements
Paul Madley, our Technical Developer has recently carried out some work to improve the search function on the Resources page. Updates have been made to the keywords used to search the website which means if there is more than one spelling of a word, such as blowdry / blow dry, both options will automatically be searched for you. This will provide more accurate search results and ensure you don't miss any valuable resources. The speed of the search has been improved so you will now see results delivered much more quickly.
The search results now show more information about each resource that appears. The results for each resource now also gives information about which Qualification and Level the resource is tailored to, as well as the Subject and Unit title. This will give you more information to help you decide whether this could be a useful resource to view.
Additionally, there is now a Clear Search option on the results page, enabling you to start your search again more quickly and easily.
One of the areas where we particularly received feedback was the retention of search criteria once a resource in the search results is opened. Now you can open a resource and then when you click the 'back' button, the results of the search will still be shown.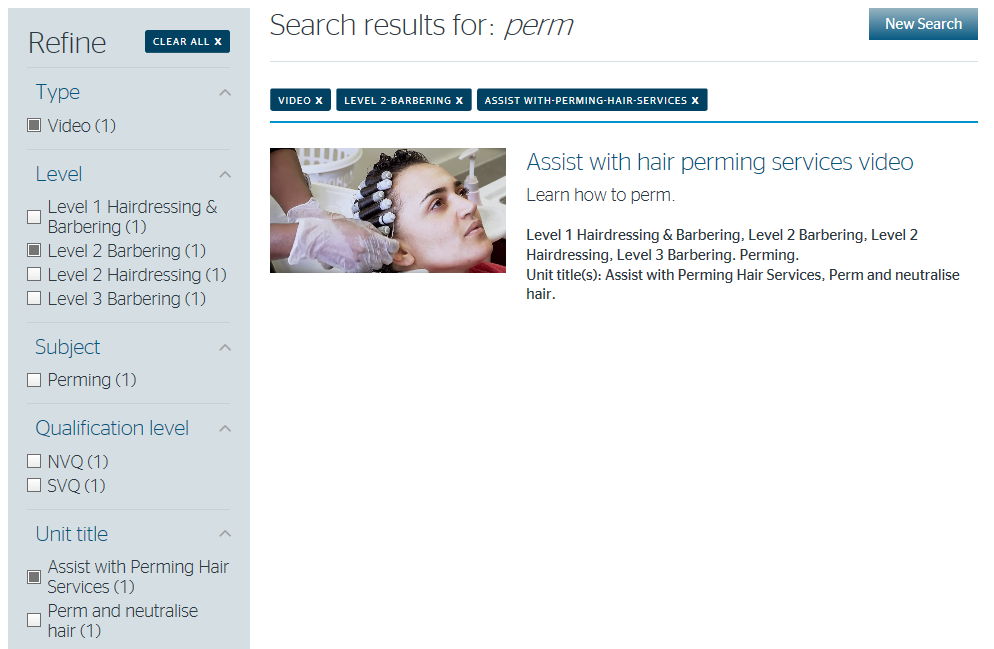 There have been adjustments to the general appearance of the website, making it clearer and the information better displayed. A Subject section has been added to the Refine column on the Resources page to give an extra level of browsing and the Unit title section is now no longer limited to ten options, but instead shows all units available. Additionally, the videos on the website each have separate download options where there is more than one part to the video resource. This means that if a video is split into three parts and you only want to download part two, you now can do so.
Share your story…
We always love to hear from our community of users so if you have found an especially good resource from our collection or have any key tips on using the Hairdressing Training website, please get in touch.
Tell us what you think
To ensure the website continues to grow, we want you to be involved and your input is essential. Please email Hairdressing@jisc.ac.uk with any feedback, comments or questions.
Remember to check out our Twitter account for regular updates on the Hairdressing Training website as well as industry commentary and links. This is another way you can connect with us and let us know your thoughts.
All best wishes,
The Hairdressing Training team